Capsule Wardrobe – 7 steps to a minimalist wardrobe
You hear a lot about the "Capsule Wardrobe" – what is it actually?
It is a reduced wardrobe with carefully selected items of clothing that can all be combined in a variety of ways. Like a self-contained fashion collection – in which everything is coordinated and fits together.
There are minimalist versions with only 30 – 35 items of clothing including shoes per season (spring / summer or autumn / winter). But the capsule wardrobe system can also be used with significantly more items of clothing.
The system of the Capsule Wardrobe leads to a conscious handling of the clothes that you really need. You save time and money in the long term, as combining your clothes is child's play and you will buy significantly less clothes.
It is therefore a wonderful counter-trend to "fast fashion", in which short-lived trends are mass-produced. The cheaper, the better and unfortunately often without regard to ecological or ethical responsibility.
"Buy less. Choose well. Make it last. " 
The fashion designer Vivienne Westwood put it very aptly: Buy little, choose carefully in order to enjoy it for a long time.
Here are my 7 steps for your "capsule wardrobe":
1. Inventory
Only when you know WHAT you have in clothes will you know what is missing and get ideas on how to combine your clothes. An extensive cloakroom check is recommended for this.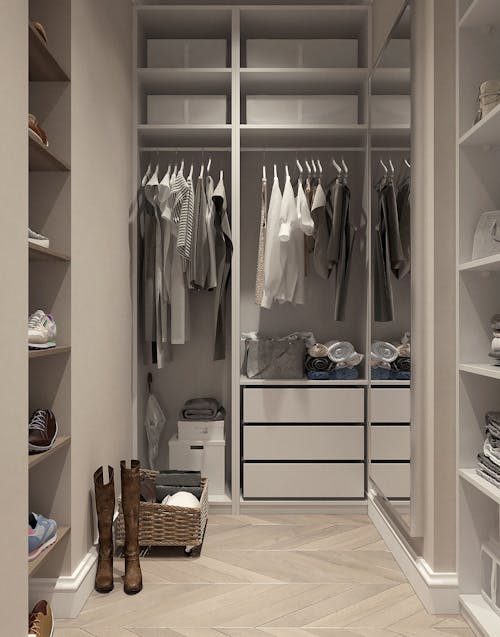 2. Sort and plan by occasion
What are your favorite things, which colors and cuts do you particularly like? These items of clothing are allowed in the capsule wardrobe.
Also think about the occasions you have – office, way to the office, playground, other leisure activities.
Make a note of the clothes you will need for this.
Usually enough per season:
Approx. 15 tops (blouses, sweaters, cardigans, blazers)
9 bottoms (pants and skirts)
2-3 jackets
2-3 dresses
5-9 pairs of shoes

3. Colors for the Capsule Wardrobe
To make it easier for you to combine your few items of clothing in a versatile way, the items of clothing should mainly consist of basic colors (e.g. black, gray, white, navy blue, beige).
There are also 1-2 personal accent colors (e.g. Bordeaux, pink, turquoise). So the clothes can be combined in many ways. You can also use your accent colors in the accessories (jewelry, belts, scarves).
4. Plain colors vs. pattern
Plain and plain clothing is more versatile than patterned and detailed clothing. Therefore: about 80% of the clothes are basics – plain and simple. 20% make statements through patterns, embroidery, etc.
TIP: The colors in the pattern should match your basic and accent colors!
5. Combine the Capsule Wardrobe
Now it's time to combine!
To do this, put all your clothes on the floor and start combining outfits from them.
Start with the bottoms (pants or skirt). To do this, combine as many of your blouses, shirts and sweaters as possible.
Choose trousers, dresses and skirts so that their shape and length look good with both flat and high heels.
Next come "overcoats" such as blazers, cardigans, capes etc.
Now the shoes and a matching jacket or coat are missing.
You should be able to combine each of your clothes to at least 3 – 4 different looks.
Once you have created an outfit, take a photo of it so that no look is forgotten.
Alternatively, you can also photograph the items of clothing individually and combine them into collages using software on your PC or mobile phone (Word / Pages).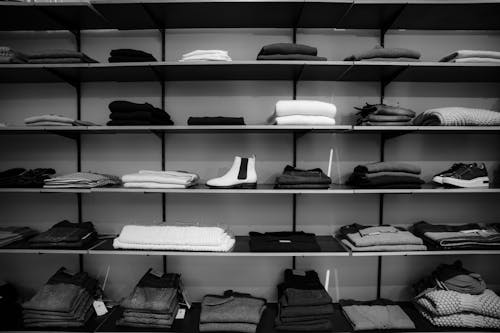 6. Develop your own style
The Capsule Wardrobe also makes you aware of whether the style of the wardrobe still suits you.
You should know what REALLY suits you – colors, shapes and styles .
If you follow every trend, it will hardly be possible to develop your own style or to set up a reduced wardrobe.
7. Check and note what is missing in everyday life.
Everyday life will show you which items of clothing you actually wear often and with pleasure. You will also find that one or the other piece of clothing, a pair of shoes or an accessory is still missing. Take notes straight away and add these really meaningful pieces to your wardrobe the next time you shop. Items of clothing that have turned out to be wardrobe keepers should be sorted out after the season.
My tip if you spontaneously see a beautiful item of clothing in the window and are tempted: Think about how the new item of clothing can be combined with your capsule wardrobe in the shop. When you arrive at home, you create 3 – 4 new outfits and take photos of them.
CONCLUSION to the Capsule Wardrobe:
Whether it is 33, 37 or 45 pieces – in the end it is about raising awareness that you don't need that many pieces of clothing.
In order to try out the capsule wardrobe system, a challenge of 30 days with 30 items of clothing, for example – or 10 days with 10 items of clothing that you combine to make 10 different outfits, is a good idea.
Away from clothes in abundance, shopping madness and frustration in front of the closet. Towards the conscious purchase of clothes, against "fast fashion" and for more freedom and fun in combining.
My wardrobe can already be combined in many ways. It's a great feeling when the plan works and I don't have to think twice in front of the closet in the morning. I admit – it takes a while to get to this stand. But if you don't go the way, you will never reach your destination – or in other words: Rome wasn't built in a day either;).